5 tips for collecting security deposits
The security deposit is typically the first thing that most landlords collect, along with first months rent, before renting to a new tenant.
Sadly, many landlords are not up to speed with landlord-tenant laws and they make mistakes along the way that can create problems between them and their tenants.
In this article we will share with you several tips that landlords can use for collecting the security deposit from their tenants.
How to Collect Security Deposits
Although collecting security deposits only happens once, it's vital to do it properly. The last thing you want is for the first month's rent check and security deposit check to bounce after your tenant lives there. In this case, you face a lengthy and costly eviction process that you have to pay for yourself.
Here are the smart things to do to collect security deposits from tenants.
1. Collect security deposits before tenants move in
The security deposit and first month's rent are the first payments tenants make before moving in. So, you must discuss the amount of the required security deposit with potential tenants. You should make sure that the size of the deposit and rent price are included in the lease agreement.
You should collect the security deposit and first month's rent after signing the lease but before giving tenants the keys. It's always best to ensure that the funds are available in your bank account before proceeding.
2. Put everything down in writing
Include the amount of security deposit and rent payments in the lease agreement. However, depending on local laws, you may need to specify where the security deposit is held and if the tenant receives interest. Remember that many states require that you keep rent payments and security deposits in separate accounts.
To make collecting security deposits easier, some savvy landlords open separate bank accounts for each rental unit they have. This way, they ensure that security deposits are kept safe and accrue interest for the tenant.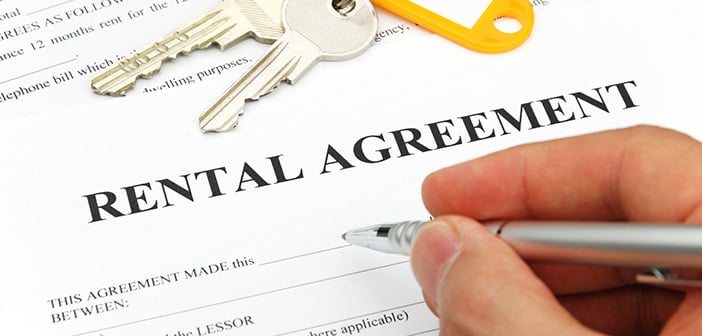 3. Collect security deposits and rent online
Successful landlords now use rent payment apps or property management software to collect security deposits and rent. Collecting rent payments online is one of the best ways landlords can streamline their business. However, most tenants prefer the convenience of paying rent online.
Here are some advantages of collecting rent online:
Tenants can pay with their debit card, credit card, or make ACH payments.
Rent payment apps send out automated reminders.
Tenants can set up automatic rent payments.
Landlords can collect security deposits directly.
Prorated rent, late fees, or other fees are calculated automatically.
Some of the best rent collection apps allow you to add multiple bank accounts to manage security deposits and rent payments.
4. Collect security deposits and rent payments separately
There are two critical reasons to collect separate payments after signing the lease. These reasons are:
It makes it easier to organize payments. You know exactly what the tenant has paid, and you can keep track of rent payments and security deposits easier.
State laws regulate how to handle security deposits. In most states, you need to keep security deposits in separate bank accounts. If you collect rent online, you can transfer the deposit amount into the appropriate account. Or the rent app can be set up to transfer security deposits automatically.
5. Only collect security deposits after signing the lease
Landlords must always act in line with the law and local regulations. This means that tenants should only pay rent and the security deposit when they sign the lease. However, it makes sense to hand over the keys only when the rent check has cleared. Savvy landlords usually only accept money orders, cashier's checks, or online payments to collect security deposits.
Contact RPM Central Valley
For more information on how to collect security deposits, or to learn more about our property management services, contact us today by calling (209) 572-2222 or click here to connect with us online.